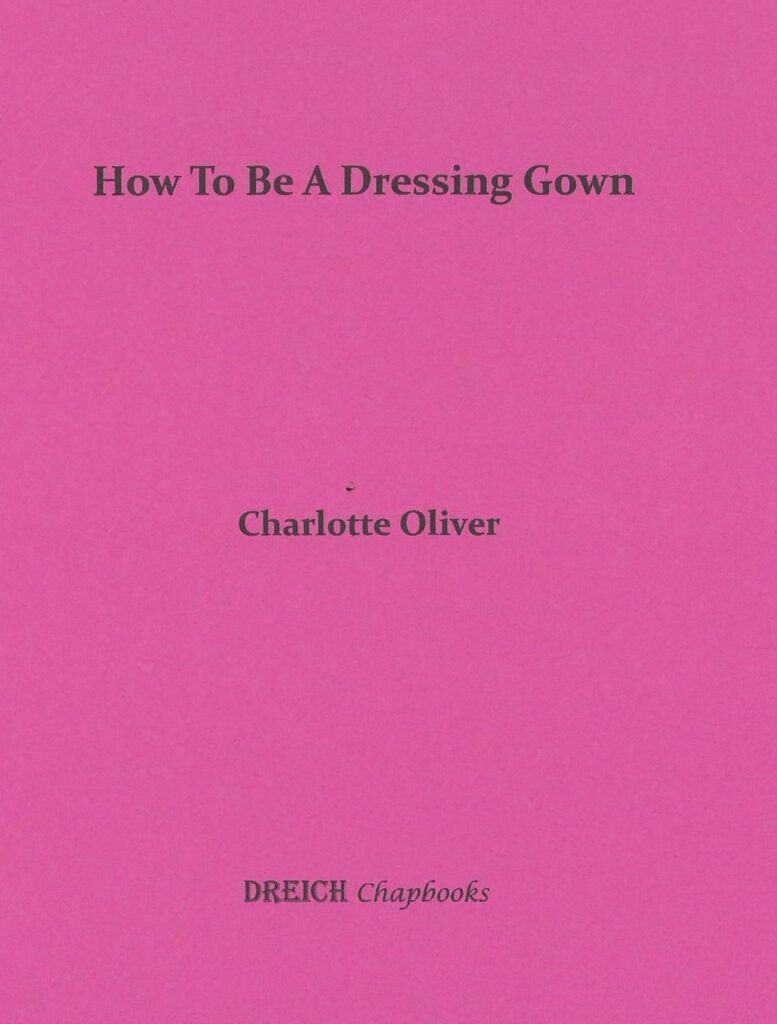 £5 each plus shipping
(N.B. For international shipping, please contact me before ordering.)
I'm delighted to share my debut collection, published by Dreich in 2021.
Praise for 'How To Be A Dressing Gown':
A lovely collection of quiet and joyful celebration.
Henry Normal – poet
A hymn of love to the vulnerabilities that lie beneath the everyday. These are poems of remembrance and discovery, poems that take the reader by the hand and invite them to explore a world in which the self is always pre- senting as something else: a dressing gown, a table cloth, a world in which reality can be manipulated. This is a collection I'll read again.
Wendy Pratt – poet
How To Be A Dressing Gown evokes the warmth of a Yorkshire upbring- ing, but it does not leave out the darkness. This short collection describes its own birth – how the author finds meaning in unexpected places, how she needs to write it down. And she does so with skill and conviction. The chapbook lured me in with its calmness and certainty – punctuated with poems of breathtaking power.
Clare Shaw – poet
In this gorgeous debut chapbook Charlotte Oliver leads us from 'owled silence' to the pleasures of Prince's pop music. She takes the ordinary of everyday – dressing gowns, shopping lists – and turns them into extraordinary poetry. All the colours of life are inhaled and breathed out again into poems you'll want to read again and again.
Lynn Valentine – poet
Engaging and accessible, whilst sublimely fuelled by remembrance to in- form and embrace the existent, this is a highly affecting and thoughtfully crafted debut collection.
Paul Neads – Flapjack Press
The trick with poetry that's personal is that it still reveals some- thing to the reader about themselves. These wonderful poems do just that. They shine a new light on the everyday. And, you'll want to read them over and over just in case you missed something.
Pete Ramskill – poet, artist, sculptor, designer
Beautifully tender, funny, observational, questioning all life in the lyrical. If you have a heart, which I very much hope you have, you will love Charlotte's poetry and this collection.
Tony Curry – poet
These moving, accessible poems transform the everyday,
often locating disturbing undercurrents, often making it shimmer through phrasing warm as gravy.
John McCullough – poet
A taster from the book:
A Frog in Her Bucket
There you are
crouched in the shadows
like a forgotten ornament
in a dark cupboard.
Your skin is as shiny
as a rain-licked window.
Your eyes are not stones
but precious jewels.
You are why she gathered
all that mossy grass and mud.
She believed you'd come
and you did.
For that,
I could kiss you.